Lil' Kickers Summer Camp is 4 hours of FUN!
Register for the whole week or just one day!
Exciting and active days are ahead for everyone at Lil' Kickers Summer Camp!
This fantastic camp is for kids ages 4-8 years old.  Campers will rotate between three great stations:
Campers will gain soccer skills while being aliens, battleship captains, pirates, jungle explorers and so many other fantastic things.  The Lil' Kicker soccer program introduces and builds soccer skills in a fun and imaginative way.  Kids come away from Lil' Kickers Soccer Camp with greater soccer skills and a love of playing the game!
Think of all of the great PE games that you were able to experience as a kid.  This station will offer classic PE games and some great new ones that will build the campers cooperative skills, sportsmanship, strategy, coordination and competitive spirit.  Kids will be excited to teach their friends and family how to play their new favorite games!
This exciting station will give the campers an insight to the world around them and provide a creative outlet that strengthens their connection to it.  We will work on a new craft and/or artistic masterpiece each day.  This station provides a great chance for our campers to express their creative side.  Campers are going to love to see what is in store for them each day.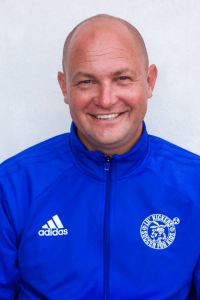 Andy Otto started Lil' Kickers South OC in August of 2017.  His love of coaching kids began as a twelve-year old soccer player coaching summer soccer camps in Oregon.  Andy has coached at the elementary level as a PE teacher for twelve years, the high school varsity level and spent some time coaching collegiate athletes as well.  Coach Andy looks forward to providing a fun and rewarding Summer to every camper!  Coach Andy says, "Camp provided me with some of my best memories of childhood.  I always loved playing the crazy games with my new friends!"